Products & Services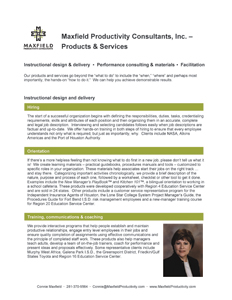 Instructional design & delivery
Hiring
Orientation - featuring Kitchen 101 and the New Manager's Course
Training, communications & coaching
Team development
Innovation tools & change management
Job aids
Performance consulting & materials
We have partnered with global organizations, such as Texaco, Marathon, Murphy Oil West Africa and Noble Energy, and local organizations to develop employees and identify and explore oportunities, examine systems and processes, plan, innovate and improve competitive position.
Facilitation
We provide expert facilitation derived from research and experience working with a wide range of clients in varied settings seeking fresh solutions to precisely meet needs. Those events have planned strategies, developed boards of directors, repurposed campus centers, resolved tough differences among groups and colleagues, explored opportunities and kicked off multi-countywide initiatives that affect millions of people.
.