Products & Services
Team development
As Yogi Berra once quipped, "Getting good players is easy; getting 'em to play together, now that's hard!" We offer learning events and materials that help teams a) agree on direction, b) understand and value their personal differences, c) structure their team meetings and communications for increased productivity and satisfaction, and d) solve team problems using a proven process and selected tools.
The following are some of the courses we offer on the topic of team development. Please contact us to learn more about how we can benefit your organization and to see samples of our materials.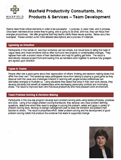 Agreeing on Direction
Types & Teams
Team Problem Solving & Decision Making .