Products & Services
Performance consulting & materials
We have partnered with global organizations, such as Texaco, Marathon, Murphy Oil West Africa and Noble Energy to accelerate the development of their overseas employees and visitors to the United States through guide books, mentoring, training, benchmarking studies, technology transfer and project support.
We have teamed locally with a rapidly-expanding school district to develop and deploy its ten-year vision, and with regional and national organizations to identify and explore opportunities, examine systems and processes, plan, innovate and improve competitive position.
The following are some examples of consulting projects and materials developed. Please contact us about how we can benefit your organization.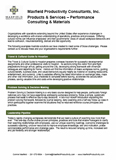 Travel & Cultural Guide to Houston
Problem Solving & Decision Making
Leadership Pipeline
.