Products & Services
Training, communication & coaching
Our interactive programs help people establish and maintain productive relationships, engage entry level employees in their jobs and ensure quality completion of assignments using effective communications and the principle of completed staff work. We also help managers teach adults, develop a team of on-the-job trainers, coach for performance and present ideas and proposals effectively.
The following are some of the courses we offer on the topics of training, communication & coaching.  They can be customized for your organization and presented individually or as a series. A workbook is provided for each participant.  Train-the-trainer and self-study versions are available.  In addition, we can provide consulting and one-on-one coaching.  Please contact us for more information and to see a preview of the presentation materials.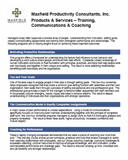 Motivating Productive Relationships
You and Your Goals
The Communication Model & Quality Completed Assignments
Coaching for Performance
Teaching Adult Learners
Mastering On-the-Job Training
Presentation Skills
.