Products & Services
Hiring
Finding, hiring and focusing the best-suited people are vital first steps in building a successful team. We deliver hands-on training in defining and organizing responsibilities, duties, tasks, credentials, skills and attributes of specific jobs in accurate, complete and legal job descriptions. We use them to formulate behavioral interviewing questions that help surface and select the best candidates while avoiding inappropriate inquiries.
The following are two of the courses we offer on the topic of hiring.  They can be customized for your organization and presented individually or as a series. A workbook is provided for each participant.  Train-the-trainer and self-study versions are available.  In addition, we can provide consulting and one-on-one coaching.  Please review the linked PDF for a detailed description, and contact us to see a preview of the presentation materials.
Writing Effective Job Descriptions
Interviewing & Selecting Employees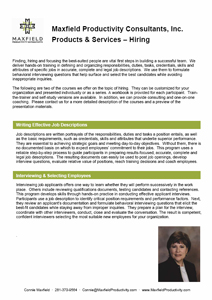 .