Products & Services
Orientation
Providing a comprehensive, effective and pragmatic orientation is the fastest way to develop competence, confidence and trust in people filling new roles. We design orientations to both organizations and specific jobs. Modular PlayBooks, guidebooks, survival kits, how-to and procedural manuals, complete with worksheets, checklists, and process flows and other tools improve retention and facilitate application. People may use the materials individually or trainers may select sections and scale them as needed.
The following are courses we offer on the topic of orientation.  They can be customized for your organization and presented individually or as a series. A workbook is provided for each participant.  Train-the-trainer and self-study versions are available.  In addition, we can provide consulting and one-on-one coaching.  New courses can be developed to fit your needs. Please review the links below for a detailed description of some of our published courses, and contact us to see a preview of the presentation materials.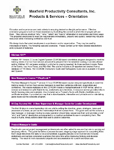 Kitchen 101
New Manager's Course PlayBook
Manager's 90-Day Survival Kit
Procedures Guide
Project Director's Guide
Kitchen 101 and New Manager's Course PlayBook, originally published by Inspired Learning Adventures, L.C., are now produced by Maxfield Productivity Consultants, Inc.