Products & Services
New Manager's Course PlayBook

The New Manager's Course version 2.0 is a CD-ROM-based course designed specifically to meet the training needs of school food service managers to lead their cafeterias with skill, imagination and confidence. The course materials on the CD-ROM include a manual/workbook in PDF format, which is indexed and interactive with fillable forms, worksheets and checklists. A resource section provides links to helpful learning sites and materials. Also included are a Trainer's Guide with fillable checklists and a certificate template. A provided job map that is downloadable, interactive and printable and a note taking guide round out the complete program.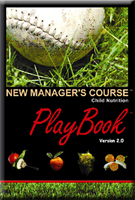 Please review the links below to PDFs with detailed descriptions of the course with sample pages and a table of contents. Contact us to find out how the New Manager's Course
PlayBook can be applied to your organization.
Brochure
New Manager's Course PlayBook tour
Participant's Guide Table of Contents
Order form

The New Manager's Course PlayBook, originally published by Inspired Learning Adventures, L.C., is now produced by Maxfield Productivity Consultants, Inc.